Lunaris 1964 Gourmet Restaurant
Traditional & modern Cuisine
A significant year. A promising newcomer to the South Tyrolean culinary scene. 12  courses, ultimate indulgence and a pleasant and cosy atmosphere...
... These are the ingredients for the NEW LUNARIS 1964 GOURMETRESTAURANT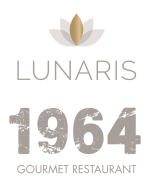 Matthias Kirchler has been a passionate chef for many years. His mission is to fuse tradition and modern cuisine by combining special ingredients from around the world with fine dining using the best local, seasonal produce. He has joined forces with the Steger family at the new A&L Wellness Resort to pair the current foodie highlights with his most exclusive gourmet concept yet, with generous helpings of passion and devotion.
Modernity meets tradition. A theme that resonates throughout the resort, not just the restaurant. The setting: a refurbished cosy parlour with modern details. The name: a symbiosis of past and present – the Steger family entered the restaurant business in 1964, while LUNARIS has been the hotel's new name since it reopened following a major renovation in July 2018.
Our highly qualified LUNARIS service team will be on hand throughout the evening. They will strive to help you select the perfect wine and guide you through the restaurant experience with their expertise on the various dishes.
Reservations can be made by hotel guests and the wider public. To help plan the evening, please reserve your table in good time by calling:
Phone: +39 0474 652 190

Open hours: friday to tuesday 
Menu start: 6.45 p.m. (reception LUNARIS) 
Price: 144 euro