Belvita – top spa experiences in South Tyrol
One of the Belvita Leading Wellnesshotels Südtirol: The AMONTI & LUNARIS Wellnessresort
The best of spa & wellness in South Tyrol has a name: Belvita Leading Wellnesshotels Südtirol. The Belvita umbrella brand comprises the best spa hotels in South Tyrol, such as the AMONTI & LUNARIS Resort, in Valle Aurina/Ahrntal. All the Belvita hotels offer top-quality spa- and wellness facilities in South Tyrol's most charming locations. 

Quality is indeed the utmost priority at the Belvita hotels, a commitment that includes every aspect of the Belvita experience, from the gourmet cuisine to the excellent service.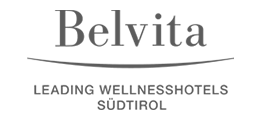 Philosophy
The Belvita philosophy rests upon four cornerstone-concepts:
Well-feeling: In South Tyrol, wellness is a holistic concept which encompasses the well-being of the body, mind and soul. Therefore, all the Belvita hotels offer a rich palette of spa treatments and wellness programmes conceived to promote relaxation and welfare.
Beauty: At the Belvita hotels, all the beauty treatments are administered by qualified personnel using high-quality products made from fresh, mainly local ingredients.
Fitness: Hiking, biking, skiing, snowshoeing and more. At the Belvita Leading Wellnesshotels Südtirols, fitness has many facets. Guests are accompanied by professional guides and trainers.
Vitale Cuisine: Fresh dishes from the Alpine and Mediterranean traditions are served to delight the eye as well as the palate.