Wellness resort in South Tyrol:
3.000 m² Spa Lodge
---
The Wellness World at the ALPENSCHLÖSSL & LINDERHOF Wellness Resort
Feel at ease. Breathe deeply.

At our ALPENSCHLÖSSL & LINDERHOF Wellness Resort in South Tyrol, spa & lounge are located at the Rieserferner-Ahrn Nature Park. Everyone can enjoy his/her rhythm of slowness & relaxation at the pools, saunas and relaxation areas. We have designed over 100 treatments and well-being packages to ensure valuable relaxation.
Modern, clear structures and indigenous natural materials of the Aurina Valley – such as local wood and traditional fabrics from South Tyrol – give their high-quality and deep character to the Spa Lodge. The glass fronts provide a view of the outside. At the ALPENSCHLÖSSL & LINDERHOF Wellness Resort in the Italian Alps you are guaranteed a health-oriented holiday at the highest level. We are member of the Belvita – Leading Wellnesshotels Südtirol.
0 m²

spa & wellness area

0 Pools


More than

0

spa & beauty treatments
Highlights of the Spa Lodge
---
The new and modern Spa & Wellness area at ALPENSCHLÖSSL & LINDERHOF
We proudly present you our brand new Spa Lodge with a fabulous wellness area extending over more than 3,000 m²!
new SPA-Wellness-World on over 3.000 m2
Sky Lounge with sky pool & whirls beds – our adults only area
7 pools, including a 25 m indoor & outdoor pool
large panoramic sauna & relaxation oasis
relaxation island with water beds & many relaxation oases
Sports & Fitness Centre on over 140 m2
Sauna World with 7 saunas and own pool
our own family pool with cuddle loungers for parents and children
A & L Water World: 7 pools at the spa hotel in South Tyrol
---
Spa with mountain views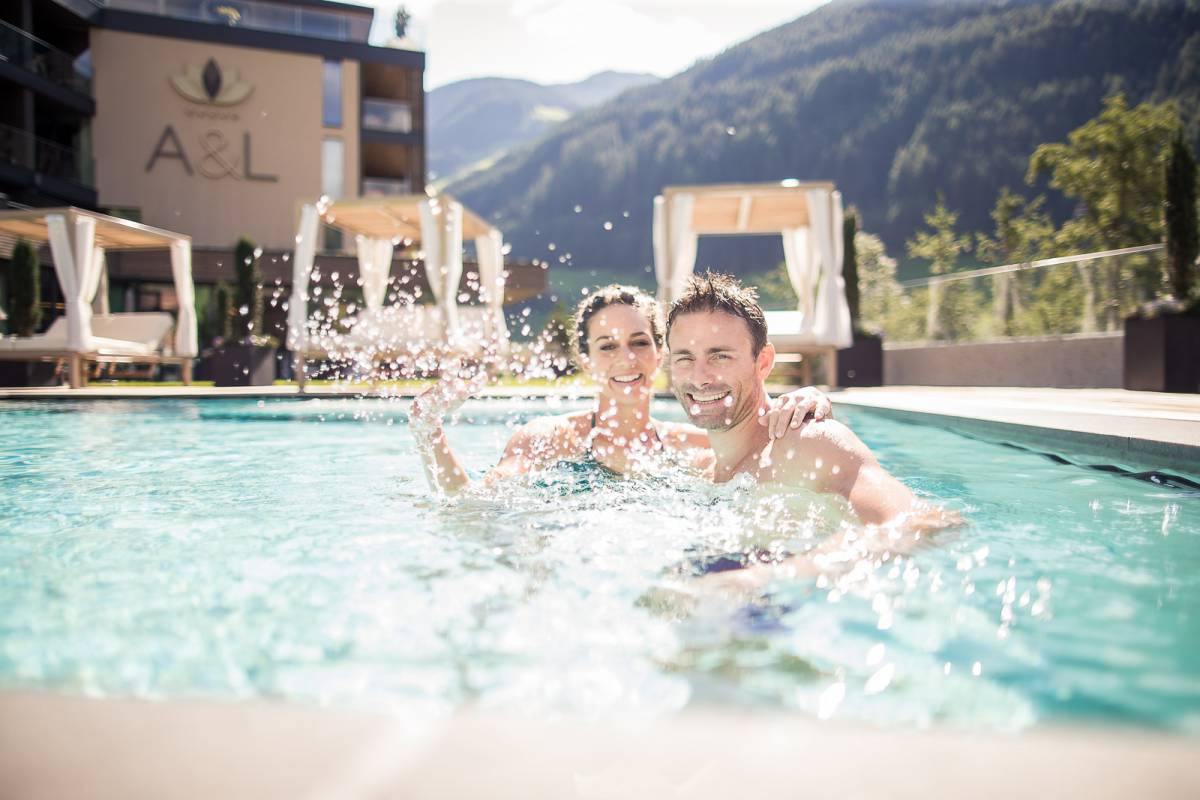 Outdoor pool with large lawn and garden
A & L Sauna World: spa hotel in the Italian Alps
---
7 saunas on 3 floors
Heat & refreshment as a revitalizing contrast. Succumb your body & mind to the luxury of relaxation in 7 saunas on 3 floors. Professional infusions by our vital coach Andreas Steger are the highlights of sauna enjoyment.
---
Experience the A & L Sauna World:
Salt Water Grotto: Finely dissolved sea salt is regularly dispersed in the saltwater pool. This health oasis is bliss for your lungs, a health fountain for your bronchial tubes and ideal for the regeneration of the entire respiratory system. Temperature approx. 45°C
Caldarium – Floral Aroma Bath: At 42-45°C, you can enjoy a pleasant and gentle bath to care for and cleanse your body at the spa hotel in the Italian Alps. Inhaling herbs and floral aromas enhances your well-being.
"Gem of the Ocean" Aroma Steam Bath: The Roman patricians themselves appreciated the excellent purification and detoxification features of the radiated heat sauna. Thanks to the mild form of this laconium, even people with heart and circulatory problems can enjoy this bath. Featuring fine herbs and floral aromas. Temperature approx. 45 °C
"Pirate Pub" Bio Sauna: Experience this unique sauna. Let yourself be pampered by the atmosphere of this special pirate pub. Temperature approx. 80°C
"Cabin Sauna": Nicely finished with ancient abachi, this sauna will delight all sauna fans. Due to the interaction between the hot sauna and controlled cooling, you will get your circulation going and strengthen your body and mind. Temperature approx. 90°C
"Captain's Steam Bath": The interaction of high humidity with mild radiant heat was recognized and used by the Romans in their caldariums. Physical & mental well-being is enhanced by the addition of fragrances and herbal essences. Temperature approx. 45°C
Panoramic Sauna: Living up to its name, this sauna features large window fronts that offer incredible views on the snow-covered winter landscape or green, natural meadows and forests in summer. The walls of this Finnish panoramic sauna are finished with local pine wood, and the seating – with basswood. Temperature approx. 90-110°C
---
Sauna infusions & vaporizations
Special events for those who love to go for a sauna: The various
sauna infusions and vaporizations
with Andreas Steger.
A & L Relax at our spa resort in the Italian Alps
---
Oasis of tranquillity to relax & do nothing
Harmonious & close to nature, modern & comfortable. Many oases of tranquillity at the new spa offer plenty of space to relax, both indoor and outdoor. Special highlights: panoramic oasis of tranquillity, Sky Relax (adults only), generous new lawn and new relaxation island with water beds.
---
Sit back and relax in our oases of tranquillity:
Sky Lounge at our wellness hotel
---
Exclusive spa experience on the rooftop
Nature & chic lounge meet at the summit of relaxation at our wellness hotel. The Sky Lounge on the top floor of the Spa Lodge is exclusively reserved for adults.
Water adventures and mountain world merge naturally in the rooftop sky pool. Exclusive water experience is emphasized with a pleasant water massage in the whirl beds. The large panoramic sauna also offers the best views.
The harmonious scenery of the Ahrntal Valley lets the mind come to rest. Here, Sky Relax means to be able to stretch out on relaxation beds, to forget about the time and to float gently in the sense of well-being on the wings of tranquillity. The look in the valley shows how far the resort feel can truly stretch.
A & L Family Spa: spa hotel for children
---
Unforgettable swimming fun at our wellness resort in South Tyrol
At our ALPENSCHLÖSSL & LINDERHOF Wellness Resort, the families can enjoy our carefully customized relaxation offers. At the A & L Family Spa, kids can splash around in the family pool, and the parents meanwhile can relax in the comfortable, soft and cuddly chairs.
At our ALPENSCHLÖSSL & LINDERHOF Wellness Resort, thanks to the treatments we also offer an exquisite wellness holiday in our spa hotel for children. Enjoy the Young Spa like the adults.
A & L vital spa at our wellness hotel in South Tyrol
---
Best natural active ingredients at our wellness hotel in the Aurina Valley
Personal. Carefully selected. Excellent. Our wellness hotel in South Tyrol is certified by Belvita – Leading Wellnesshotels Südtirol. At our A & L Vital Spa we only use carefully selected, high-quality, highly effective lines of cosmetics and products from renowned manufacturers. Our qualified employees at the spa reception will be happy to consult you.
Book your treatments at spa@wellnessresort.it.
Choose what's good for you… treatments, well-being packages, wellness for couples!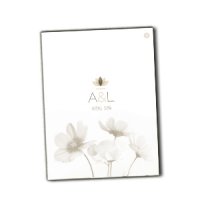 ---
Treatments & well-being packages
Uniqueness – that is when everything seems to agree. The moment that is precious. At our hotel with spa in South Tyrol you will enjoy many such moments with our beauty and well-being treatments.
Choose from over 100 offers…
Body treatments & Bodystyling
Young spa - Treatments for kids and teens
Give wellbeing

WITH OUR GIFT VOUCHERS!

Sports & Fitness Centre: Hotel with gym in South Tyrol
---
Fit & active programme during your sports holiday in South Tyrol
Gain energy with yoga, get fit with gym training – in our hotel with gym in South Tyrol, anything is possible. Our ALPENSCHLÖSSL & LINDERHOF Wellness Resort offers training opportunities at the gym on about 140 m². Large windows allow plenty of light into the gym. A quick look outside, in the nature, is a natural motivator. Our fitness trainer Andreas Steger will explain how to use the modern cardiovascular equipment from TechnoGym and will be happy to provide a guide for a healthy workout.
During our daily exercise and relaxation programme, he will be your expert in targeted exercises and recreational sport, which is really fun. Let yourself be surprised with what relaxation programme he will put together during your holiday. The courses are part of our premium all-inclusive services!
---
Our course selection
aqua-power-gym
pilates
qigong
aerobic
stretching, body shaping, gymnastics for your abs, legs, buttocks, back and spine
total body workout in- or outdoor
yoga
progressive muscle relaxation
relaxation classes
outdoor cardio fitness
yogalates
functional training
body art
crossfit training
yoga for your back
dietary advice
archery
Do you fancy a holiday?

MAKE AN ENQUIRY OR BOOK DIRECTLY ONLINE!