Mountain hotel in South Tyrol:
Summer holiday in the Ahrntal Valley
---
Start your mountain summer at the Klausberg
Alpine views. Sporting challenges. Sunny relaxation.

The holidays at our mountain hotel in South Tyrol can be endlessly varied. Our ALPENSCHLÖSSL & LINDERHOF Wellness Resort – located directly opposite the Klausberg valley station – is an ideal starting point for hiking & mountain biking in the Rieserferner-Ahrn Nature Park.
Whether relaxed or extreme. Whether slow or fast. The summer holiday in South Tyrol has a lot of everything. And more: rafting, swimming, paragliding or climbing with the family at the high ropes course... Entertainment, such as the Klausberg-Flitzer, is only a few steps away. Attractions, such as the imposing Taufers Castle, invite for history-rich discovery tours.
The top inclusive services of our ALPENSCHLÖSSL & LINDERHOF Wellness Resort bring another summer feeling of well-being: guided tours and fitness offerings and the Spa Lodge with 7 pools for active relaxation.
Enjoy the diversity of the mountain summer in South Tyrol.

More than

0

huts & refuges

0

three-tousanders in the Ahrntal valley

0
guided

hiking tours per week
Highlights at our mountain hotel in South Tyrol
850 km of well-kept hiking trails between 860 and 3,499 m above sea level in all levels of difficulty
26 unique mountain bike tours, from easy to challenging
3 lift facilities in the Ahrntal Valley – with them you can reach up to 2,400 m high (tickets to pay extra)
located right next to the lift facilities in the Klausberg hiking arena
cultural highlights and many attractions in the Ahrntal Valley: Adventure Mine, the largest waterfalls in South Tyrol, Taufers Castle, mineral museum, healthy climate tunnel, nature park house etc.
many sports activities in the immediate vicinity (rafting, paragliding, tennis, golf, horseback riding, etc). Klausberg-Flitzer & Water Adventure World, Adventure Park and High Rope Course "Enzwaldile" just 50 m away.
trips to the Dolomites, Lake Garda, Merano etc.
relaxation: 3.000 m² large Wellness World with 7 pools & 7 sauna. 3 outdoor pools.
mountain HOTEL IN South Tyrol
Hiking hotel in the Italian Alps
---
Tour with Sepp, our hiking guide
Rise with the sun. Enjoy the morning in the mountains. Hiking in South Tyrol means enjoying scenic mountain views. With over 850 km hiking trails, everyone can put a glorious individual holiday together.
Adventure trekking, cultural walking tours, glacier tours, family-friendly trips, tours to mountain lakes, traditional huts and more… At our ALPENSCHLÖSSL & LINDERHOF Wellness Resort we offer tours guide & guided hikes in the Rieserferner-Ahrn Nature Park.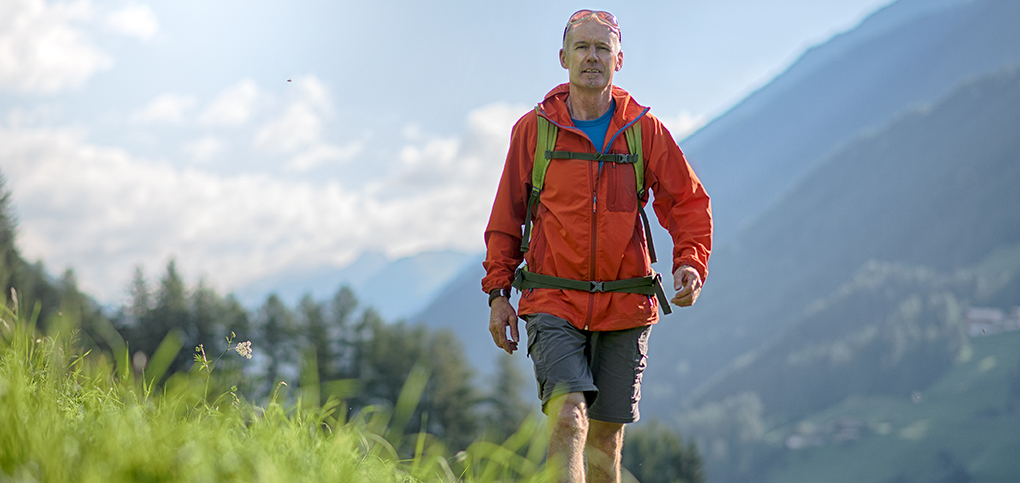 The hikers' hotel in South Tyrol relies on authentic experts. Sepp Steger, our alpine guide, accompanies hikers in the Ahrntal mountains 6 times a week (from mid-May to late October). He takes them to the most beautiful hikes and provides a personal insight in his homeland of South Tyrol.



---
Our top service pack at the hiking hotel in the Italian Alps
you can walk directly from the hotel door to great hiking trails of all levels of difficulty in South Tyrol
6 guided hiking tours per week with alpine guide Sepp Steger (May-October) in our hiking hotel in South Tyrol
rent walking poles & backpacks
there are 3 lift facilities in the Ahrntal Valley – with them you can reach up to 2,400 m high (June-end of October)
take cheap hiker's taxis to go to the alpine pastures of the Ahrntal Valley
hearty snacks for hikers from the breakfast buffet & schnaps on the top of the mountain included during each tour
a shoe polishing and drying room
free panoramic hiking map and hut guide
pulse-controlled hiking with the new Polar heart rate watches: Hike in the ideal heart rate range for healthy fat burning and stress relief – free rental.
MOUNTAIN BIKing & E-BIKing in the Ahrntal Valley
Bike hotel in South Tyrol
---
Mountain biking & e-biking in the Ahrntal Valley
Be strong and refuel at the same time. A bike as an ideal holiday companion. Whoever likes to explore the Ahrntal Valley on a mountain bike or e-bike will be in good hands at our ALPENSCHLÖSSL & LINDERHOF Wellness Resort thanks to our extensive bike-related services. Experience South Tyrol at its very best during guided tours with professional guides. By the way, bikes are (of course!) allowed on the lift facilities Klausberg.


Our service pack for your bike holiday in South Tyrol
5 guided mountain bike tours per week (free) with different levels of difficulty (500-1,500 total distance climbed, every 3-4 hours), led by our professional bike guides (mid-May to late October)
new, high-quality mountain bikes for free rent
e-bikes for rent (€ 15 per day)
detailed biking information & route maps
bike check with our guide Willi Steger
tips for improving your techniques: biking technique training
personal tour tips for the biking paradise of South Tyrol of Willi Steger
garage parking and washing station for bikes
tours meals from the breakfast buffet
wellness centre with sports massages (extra) and a large wellness area
Book your summer deals in South Tyrol
---
Summer packages for your summer holiday in the Ahrntal
Attractions in the Ahrntal & in South Tyrol
---
Sightseeing & Shopping
In addition to nature experiences on the Klausberg, you can also see other attractions in South Tyrol during your holiday.
Happy sightseeing during your trips in the Ahrntal & in South Tyrol. Book your summer holiday at the ALPENSCHLÖSSL & LINDERHOF Wellness Resort – your mountain hotel in South Tyrol.
Reinbach Falls: The largest & most impressive waterfalls in South Tyrol. Huge water masses of 3 waterfalls roar here one at a time, reaching up to 42 metres in depth. The Reinbach Falls can be reached via easy hiking trails in about an hour from Sand in Taufers.
Taufers Castle: With its battlements and the drawbridge gate, the knight's hall, regency chambers and the dungeon, the Taufers Castle appears to have leaped from the pages of a fairy tale book. But it is very real and impressive as one of the most beautiful castles in South Tyrol. On specific dates, they offer a children's programme for little knights and damsels at the castle (about 12 km away).
Adventure Mine Prettau: There's plenty to see here... visitor mine, mining museum, and a healthy climate tunnel. Equipped with a helmet and a head torch, you board the mine train that takes you deep underground in the bowels of the earth. This is not only interesting for adults, but is also an unforgettable adventure for children. A former copper shaft is now known as a healthy climate tunnel for its beneficial effects (about 11 km away).
Nature Park House Kasern: The information point for the Rieserferner-Ahrn Nature Park in Kasern shows an exhibition of arts and crafts and agriculture at the end of the Ahrntal Valley. Visitors can also immerse in the world of the Ahrntal Valley with the help of cinematography (about 11 km away).
Nature Park House Sand in Taufers: Here, you can learn how nature has evolved, as well as what beauties & borders are there at the Rieserferner-Ahrn Nature Park. Ancient fairy tales & legends provide the best entertainment for children (about 12 km away).
Shopping: Stroll through the streets and alleys, enjoy the atmosphere at a café and rummage through the individual shops. Who knows? You might even discover special traditional artisanship. Shopping tips: Bruneck (about 27 km) & Brixen (about 60 km).
The Thermal bath "Cascade" offers yet another water adventure. A sports pool, an adventure pool, a relax pool, 2 outdoor pools and a natural swimming pond (only 10 km away).
Brixen: Beautiful, sun-drenched, history-rich. Well over 1,000 years old, Brixen boasts some interesting buildings. A must-see: the Cathedral with its double towers – the landmark of the town, the Town Hall with the elements of a medieval castle, the Imperial Palace with the Brixen Cathedral Treasure, and the heritage-listed medieval Old Town (about 60 km away). A top tourist destination in South Tyrol.
Do you fancy a holiday?

MAKE AN ENQUIRY OR BOOK DIRECTLY ONLINE!