Wellness & family hotel
in South Tyrol
---
Family holiday & nature adventure in the Ahrntal
Lively. Cool. Relaxing.

The children's world for the little ones. And fun for the whole family in the Rieserferner-Ahrn Nature Park. As a luxury family hotel in South Tyrol, our ALPENSCHLÖSSL & LINDERHOF Wellness Resort combines exclusive comfort with the varied needs of parents and children.
The family benefits include: child care for kids 2 years and older, game options tailored to various ages and a special wellness offer for families. At dinner, our young guests can enjoy delicious menus for children and the adults will surely appreciate our fine gourmet cuisine. The right solution for all your needs! This is what family holiday should be like!
Plus, it is conveniently located right by the lift facilities Klausberg. In summer, you can enjoy the rich flora & fauna at the Rieserferner-Ahrn Nature Park and the family adventure world Klausberg. In winter, Klausiland, the largest children's ski park of the Ahrntal Valley, is the perfect attraction for little snow bunnies. It also features a ski school and a ski kindergarten. Whoever has discovered skiing & snowboarding, for those the top ski slopes in the Skiarena Klausberg will feel like home. And by the way, this is the most family-friendly ski area in Italy.
The family holiday in Ahrntal Valley offers a real wellness, hiking & ski experience.

at least

0 h

of child-care
per week

0

playing rooms for children

0 m²

new outdoor children's playground
Highlights at our family hotel in South Tyrol
mini club with play facilities for children
junior club with Wii-consoles, T-wall and climbing wall
child care (all the year)
new 1.500m² outdoor KIDS FUN PARK - playground
wide range of baby and toddler equipment: everything you need for your toddler!
3.000 m² large Wellness World with 7 pools – family pool included
new lawn with garden area
well-being and beauty treatments also for children & teenagers
comfortable double rooms and luxury nature & family suites
attractive family packages
discounts for children
premium all-inclusive and daily children's menu
lift facilities Klausberg & the most family-friendly ski area in Italy just 50 m away
family adventure world Klausberg with Klausberg-Flitzer & Water Adventure World, Adventure Park and High Rope Course "Enzwaldile" just 50 m away
ski school, ski rental, toboggan run and skikindergarten just 50m away
NOVITÀ: 1 giro per l'Alpine Coaster "Klausberg-Flitzer" è incluso in ogni skipass
---
Alpi - Your best friend at the Alpenschlössl & Linderhof!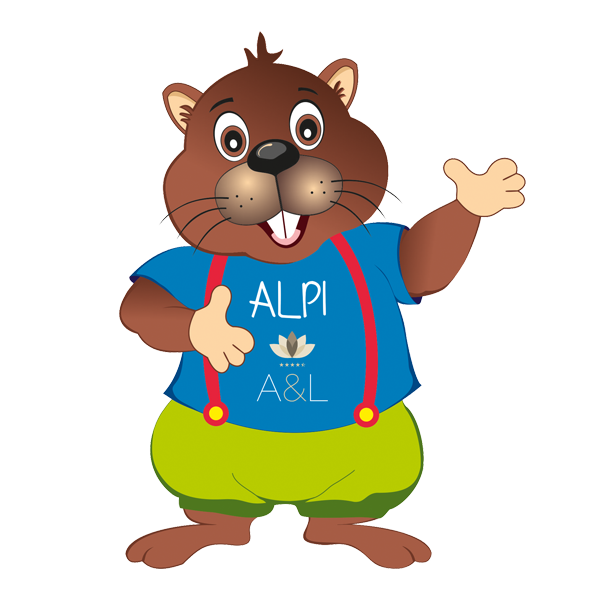 Heya kids!
My name is Alpi and I live in the Alpenschlössl & Linderhof! Let me tell you a little secret: there are so many cool things that you all absolutely have to see and do here!
The mini club has a mini slide, climbing wall, Playstation corner, arts and crafts area, soft play zone to run and clamber around in, as well as so many amazing toys in the children's house... There's even a bunk for the little ones to sleep in after lunch.
Sometimes, we also go swimming or visit the animals at the farm! In the junior club, the older kids can spend their time playing cool video games, testing the limits of their dexterity and of course playing table football!
Oh, and I'll also show you around the massive outdoor Kids Fun Park. It has an incredible adventure playground, a tower-themed tube slide, a huge climbing wall, a humongous trampoline and a parkour area so you can show off your skills. There is also a large sandbox with lots of toys! The bigger kids can even try their hand at archery! My insider tip is the water parkour facilities, which have plenty of space for splashing around!
As you can see, there are plenty of options and so much fun to be had! I look forward to seeing you at the Alpenschlössl & Linderhof,
Family holiday with babies & children
---
A & L discounts for children
Wonderful. During your family holiday, children sleep on an extra bed in parent's room so that you can spend your holiday at a discounted price. Or you can select our spacious family suites with separate rooms for parents and children. Here the children's discounts:
0-2 years € 25.00 per day
3-8 years 50% discount
9-12 years 40% discount
13-16 years 30% discount
Baby-friendly hotel in South Tyrol
---
Extras for your little treasure
In our baby-friendly hotel in South Tyrol we offer the following service free of charge:
bottle-warmers
changing mat
children's cot
high chair
baby bath-basin
armbands
bathroom stool
toilet seats
child seat for bikes
Your hotel with Mini Club in South Tyrol
---
Mini Club & Junior Club & Bambi Parc
Child care throughout the year at our hotel in South Tyrol. For children 2 years and older. From Monday to Friday from 10:00 AM until 7:00 PM. While the little ones gambol at the new Mini Club, teenagers are having fun at the Junior Club. We offer a mini slide and children's house for little adventurers and video games and table football for active teens.
Mini Club



Our caring employees with pedagogical training know exactly what kids love. They entertain the little ones with a varied adventure programme that makes every day fun! At the Mini Club, children even get lunch during the care time. In addition, children are more than welcome to use the game room to play free. Have fun!
children's playing room for our little guests
free play during in our baby-friendly hotel in South Tyrol
diverse programme for your family holiday with child care
mini slide
small climbing wall
painting corner
children's house
Junior Club



The newly designed Junior Club at our 4-star family hotel in South Tyrol is the best meeting place for the older kids & teens who want to socialize with their peers. Here, young people compete against each other at table football or their favourite video games. They are always welcome to chill out here – because it can be so cool to hang out with friends.
The Junior Club features the following during your holiday with teenagers:
boulder climbing wall
T-wall to train speed and reaction
table football
Wii-consoles
video games
chill-out-lounge for relaxation
New: 1.500m² Outdoor Kids Fun Park



The little ones love to discover the world on the playground of our family-friendly hotel in the Ahrntal and to be able to frolic out there. For children we present our new 1.500m² large Kids Fun Park with many playing possibilities:
slides
swings
sandpit
climbing course
trampoline
and much more!
Family adventure world Klausberg
Family adventure world Klausberg in the Ahrntal
---
The attraction right at the ALPENSCHLÖSSL & LINDERHOF Wellness Resort
Alpine Coaster Klausberg, High Rope Course, Water Adventure World, children's ski park Klausiland – the new family adventure park Klausberg promises action-packed adventure and child-friendly activities. The family attractions on the Klausberg in the Ahrntal are located directly at the ALPENSCHLÖSSL & LINDERHOF Wellness Resort.
This is what awaits you in Klausberg, just 50 metres from our hotel:
Alpine Coaster Klausberg: The longest alpine coaster in Italy. Pure action on 1,800 metres... Up to 50% incline, up to 8 metres above the ground, up to 40 km/h fast. The experience is there in summer and in winter.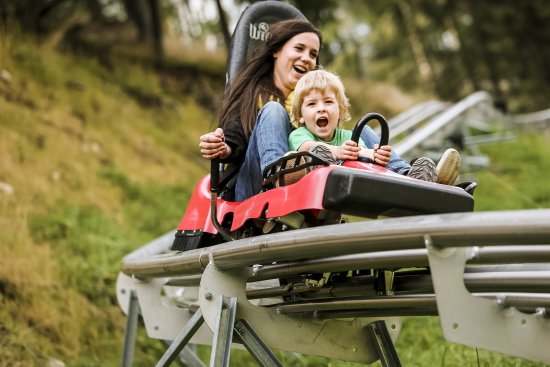 Water Adventure World: Because no one can resist. Rivulets, slides, pumps, bridges, fountains, sand and mud pools invite you to wet and breezy fun. Featuring a tubing run, water bouncer, Klausi pond, Kneipp pool, bear slide, giant swing, climbing tower, witches slalom, low rope course and more.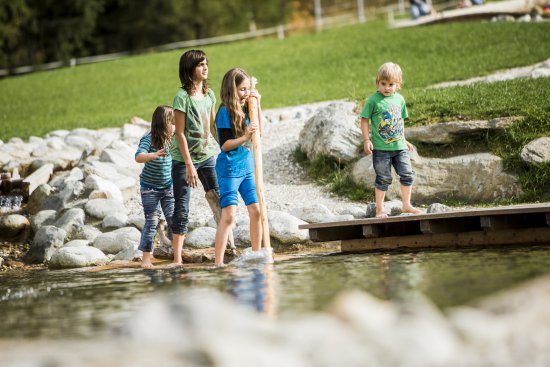 High Rope Course "Enzwaldile": Climb, scramble and crawl through 7 rope courses. Wobbly bridges, swing ropes and hanging ladders will make the experience even more exciting. A total of 60 stations make climbing fun for adventurers of all ages.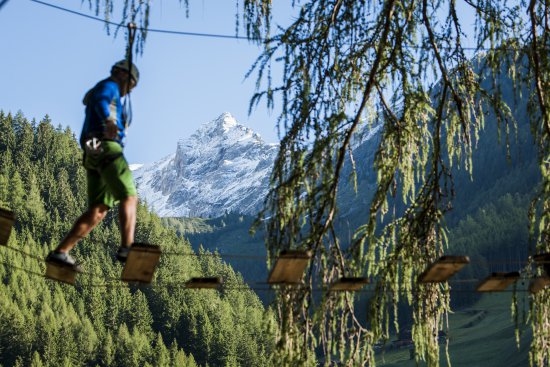 The Farmhouse Gang: A circus, treasure hunt, knights games... Active partners in the holiday region Tauferer-Ahrntal offer a diverse weekly programme in July & August. The activities relate to forest & water adventures, museums, the history of the Taufers Castle, as well as the diversity on the farm. Information about the programme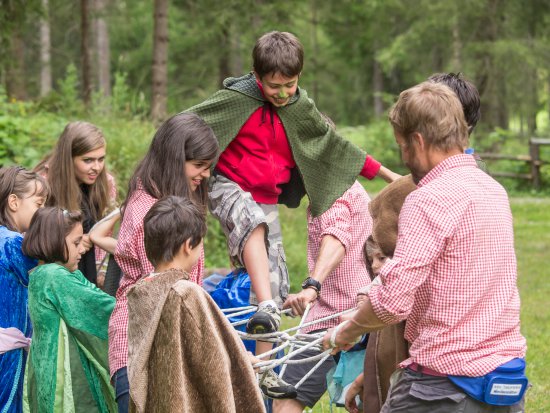 Dinoland & Dino Fun Line: Also, did you know that there are dinosaurs in the Alps? Whoever wants to take a journey through time can admire 10 life-size dinos here. Freestylers can ride whoops, steep turns and small boxes in winter. Truly unique.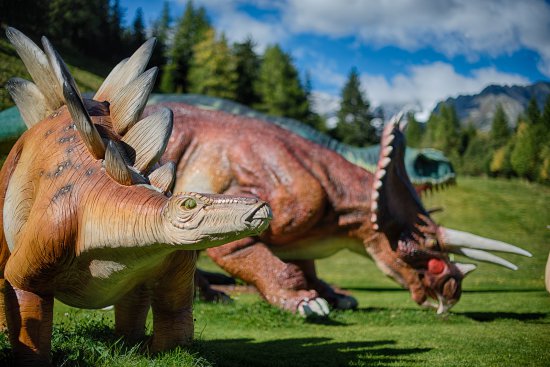 Children's Ski Park Klausiland: Klausi, the mascot of the children's ski world, is a groundhog that is all about ski fun. All the great attractions for children together with ski instructors from the Ski school Klausberg only multiply the fun. Attractions in the children's ski adventure world Klausiland: several magic carpets, new tubing runs, kids' igloo, Klausi Castle, slides, Klausi Express, mini moguls, and witches slalom, Dinoland, and Alpine Coaster Klausberg.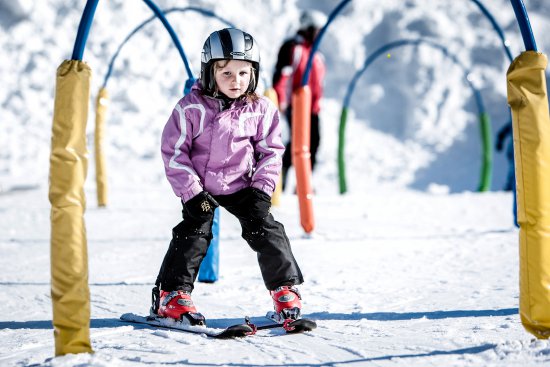 Ski kindergarten and ski school: During skiing, your little ones are supervised by the qualified ski instructors from the Ski school Klausberg. Ski school and ski rentals are located right next to the hotel. For more information visit the Ski school Klausberg website.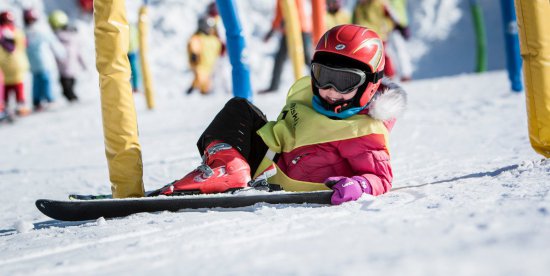 Dino Fun Line: Unique for kids and freestyle newcomers! Ride through an amazing prehistoric parkour of whoops, steep turns and boxes and visit some primeval guests like Stegosaurus, Utahraptor, Vulcanodon and the gigantic Tyrannosaurus Rex.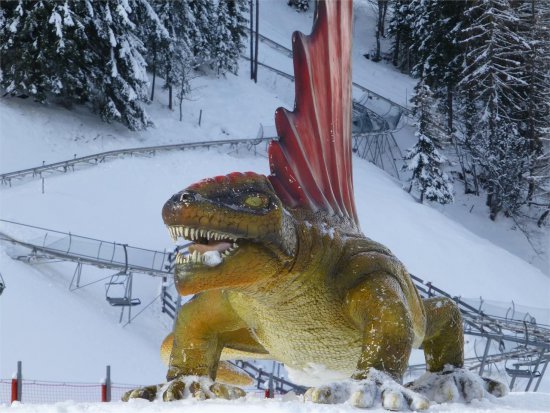 ---
Activities for families and children at the A & L Wellnessresort
Specialized skiing area for families Klausberg in the Skiworld Ahrntal
Dino Fun Line in the Klausberg skiing area
Specialized ski school for children "Klausberg"
Skiing park for children "Klausiland"
Alpine Coaster "Klausberg-Flitzer"
Skiworld Ahrntal - Skiarena Klausberg
A & L Children's play room
A & L Junior Club for teenager
A & L Kids Fun Park - our children's playground
A & L Family Pool - Wellness for families
Family adventure world Klausberg
Dinoland at the Klausberg
Family water world Klausberg
High Rope Course "Enzwaldile"
High Rope Course "Enzwaldile"
Rafting tours for families
Summer programme: "The farmhouse gang"
Mountainbike tours for families
Summer sledding "Klausberg-Flitzer"
Skikindergarten - Child care Klausberg
YOUNG SPA: WELLNESS for children
Young Spa: Wellness for children
---
Treatments for our youngest guests
Be beautiful. relax. Wellness for children: thanks to our Young Spa treatments, kids and teens can feel like little princesses & princes.
Young spa - Treatments for kids and teens
our FAMILy holiday deals for you
Family deals
---
Book your family hotel in South Tyrol
Beautiful holiday at the ALPENSCHLÖSSL & LINDERHOF Wellness Resort – your family hotel in South Tyrol.
Do you fancy a holiday?

MAKE AN ENQUIRY OR BOOK DIRECTLY ONLINE!